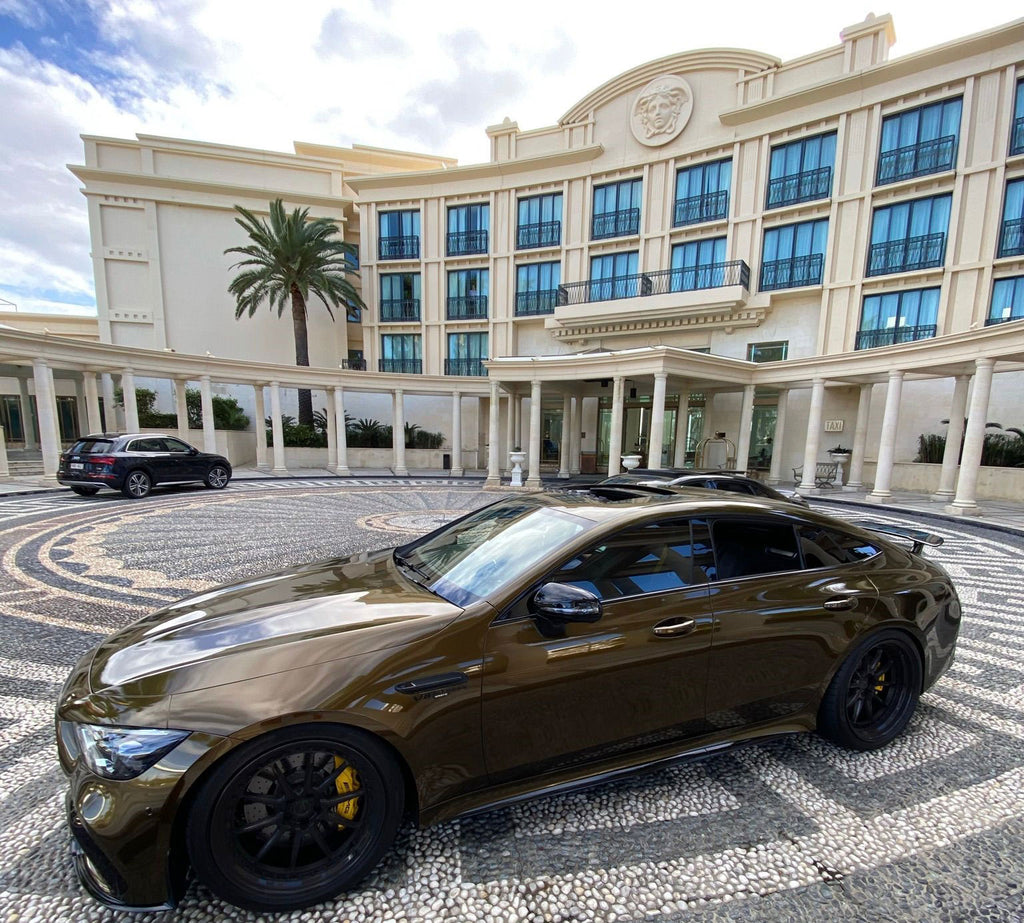 Royalty Entertainment
Mercedes GT63s
| | |
| --- | --- |
| 1 - 2 Days | $2,100/day |
| 3-4 Days | $1,900/day |
| 5+ Days | $1,500/day |
| Chauffeured* | $500/hr |
| | |
| Deposit | $4,000 |
| Kilometer Allowance | 150km/day |
| Required Age | 30+ |
It has twice the doors and twice the seats of any AMG GT before it. Yet it builds on every dominant trait: Brilliant handling. Exquisite appointments. Seductive style. And a handcrafted Biturbo V8 sending 630 hp to its four wheels.
Handcrafted AMG 4.0L V8 Biturbo engine
The instantly legendary AMG GT Biturbo V8 heartbeats are even stronger in the GT 63 S. Output reaches a new AMG GT peak of 630 hp, 664 lb-ft of torque, and a 195-mph top track speed. Twin-scroll turbos with low-friction bearings are located in the engine's "hot V" for a massive, virtually-lag-free boost. AMG Cylinder Management enhances cruising efficiency with seamless cylinder deactivation. Yet even with its advanced technologies, each engine is still hand-built and signed by its own craftsman.
The first 4-door sports car developed by Mercedes-AMG has extended the AMG family traits and the model line into another realm. Its 4-door coupe design's proportions and details directly reflect the capabilities within: Long, low and wide, its muscular fastback shape combines excellent stability and aerodynamics. And from its signature grille to its large wheels and wraparound LED taillamps, it carries the presence of its AMG GT coupe siblings while carrying four adults in style in comfort.
Style
Colour: Bronze
Class: Supercar
Body: Sedan
Seats: 4

Price: $405,000
Performance
ENGINE: 4.0 TT V8
TRANSMISSION: 7-Speed Automatic
HORSEPOWER: 750 hp
TORQUE: 657 lb-ft
DRIVE WHEEL: 0-100km/hr 2.8 seconds
1/4 MILE: 9.9 seconds
TOP SPEED: 222 mph
Handcrafted AMG 4.0L V8 Biturbo

Power 

630 hp @ 5,500-6,500 rpm

Torque 

664 lb-ft @ 2,500-4,500 rpm

Compression ratio 

6:1

Construction 

Diecast alloy block and heads

Fuel capacity 

1 gallon
Automatic transmission 

AMG SPEEDSHIFT® MCT 9-speed

Drive configuration 

AMG Performance 4MATIC+ all-wheel drive
Acceleration 0-60 mph3.1 sec